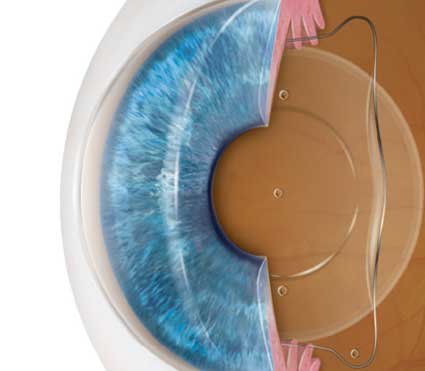 Implantable Contact Lens (ICL) Surgery
ICL or Implantable Contact Lens in a simple language is a kind of contact lens which is implanted into the eye and does not require frequent removal like a normal contact lens. Generally ICL is advised in case when person is not fit of lasik laser vision procedure due to various reasons
Implantable Contact Lens (ICL) Surgery
After ICL Surgery or Treatment or Procedure, millions of people transforming them from visual cripples to visually normal people. The ICL (Implantable Contact Lens) is a cutting edge technology for refractive error correction which is ideal for person looking for removal of glasess with high quality of vision correction and fits in any of below mention criteria.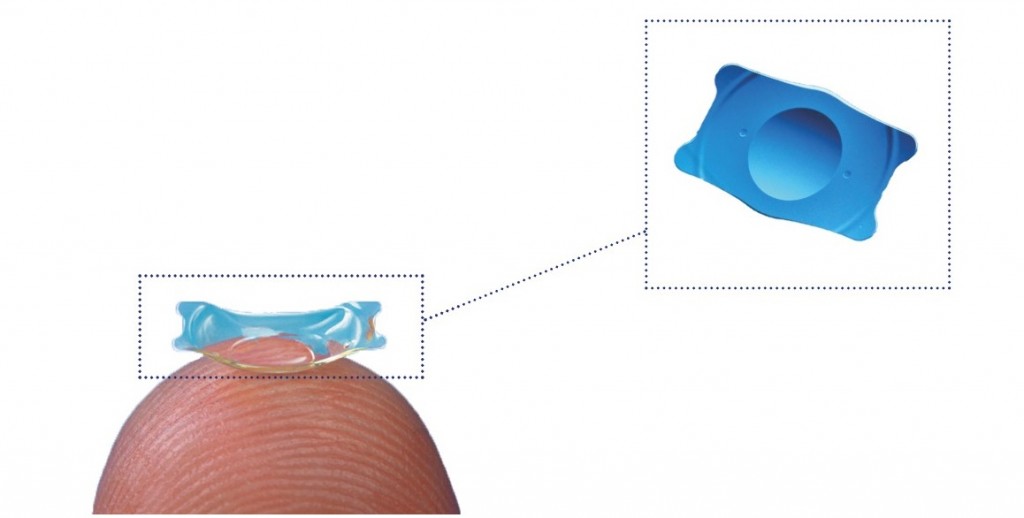 Implantable Contact Lens or ICL is a revolutionary device benefiting people having
Myopia between (-) 18 to (-) 30 Diopter and
Hypermetropia between (+) 6 to (+) 15 Dipoter.
Very thin cornea due to which Lasik cannot be done or unfit patients of Lasik
ICL or Implantable Contact Lens in a simple language is a kind of contact lens which is implanted into the eye and does not require frequent removal like a normal contact lens. This phakic* IOL has numerous advantages including its correction of the widest range of myopia (near sightedness), hyperopia (far sightedness) and astigmatism (cylindrical power).
Good candidates for the ICL are:
Having ages between of 18 and 45 years.
Have dry eyes, severe myopia, or a thin cornea (non-LASIK candidate).
Nearsighted or farsighted, including those with mild, moderate, and high power with or without occurrence of astigmatism. Now Toric ICL™ is also available which can correct astigmatism
Should have stable power for a year
Should not be currently pregnant.
Should have proper ACD (Anterior chamber depth) and acceptable eye tissue cell density – this can be check after initial investigations.
Should not have any known allergies to medications used during refractive surgery or no other contraindications.
Generally Lasik Surgeon chooses ICL where Lasik Laser Eye Surgery is ruled out; therefore ICL is not just an alternative; it is the good choice for superior vision quality. The cost of ICL for both eyes is Rs 1.30 Lac (Spherical Implantable Contact Lens or ICL Surgery in Delhi) & Rs 1.5 Lac ( Toric Implantable Contact Lens or ICL Surgery in Delhi)
If you have a question, please feel free to speak to our ICL Expert anytime at +91- 9667770453
Available Technologies
Indian ICL Implants
Imported ICL Implants (Staar ICL)
Implantable Contact Lens Surgery Cost in Delhi
Indian Implantable Contact Lens Surgery Cost in Delhi – Rs 55,000 / Eye

Imported Implantable Contact Lens Surgery Cost in Delhi – Rs 65,000 / Eye
Prices of Implantable Contact Lens Surgery  in Delhi may varies & we run special discounts time to time so offer best value for money.
I always wanted best Lasik Laser Surgery for my eye which should be latest in market. After seeing lots advertisement & online search I become confused & concerned whether I will ever get rid of Glasses. I sincerely give by gratitude to LasikinDelhi.com people for guiding us to best Lasik Centre & offering me lowest Lasik Laser Surgery rates for best Lasik Procedure.
My father needs very unbiased opinion for Lasik Surgery. Through, internet search we come across, LasikinDelhi.com, the expert in giving right advice about Lasik procedure in Delhi. We followed the suggestion given by LasikinDelhi.com and opted for 100% Blade Free Lasik Surgery in Delhi at lowest rates ever before. Best FDA approved technology combined with 100% Blade Lasik @ lowest rates given me best value for money results.
I was worried for my interview for which I need to have 6/6 vision without glasses & I am having no idea which centre to approach & whether it offer me best technology & doctor expertise at reasonable rates. Thanks to LasikinDelhi.com timely call & making all the things easier & simple. I have been through my interview & extremely happy to see world without glasses
I have been wearing Glasses for 13 years & desperately looking for Lasik Treatment for my Eyes. We are grateful for all support provided by LasikinDelhi.com guiding us to Right Lasik Laser Surgery at my nearest location of my residence. Now my vision is clear & sharp than before. Thank you LasikinDelhi.com
LasikinDelhi.com not only helped us in guiding right Lasik Laser Hospital but also help us in booking direct appointment for Lasik Counselling & Lasik initial investigations. I got best rates for Lasik treatment for my eyes & happy with quality of vision after Lasik Surgery. Thank you LasikinDelhi.com once again
I was totally confused whom to believe & where to go. But LasikinDelhi.com unbiased guidance helped me getting Right Lasik Laser Surgery done @ reasonable rates. Now I am free of Glasses & Contact Lenses
It is the best place for Lasik surgery. I was looking for a centre which offers the services at a reasonable price and I found out this one. This has got the best doctors working on your eyes. Everything was done in very precision way and the staff is also courteous. I would recommend this to my near and dear ones. Keep up the good work.
My brother wanted to get rid of his glassed as he was planning for arm forces. We came to know about Centre for Lasik Surgery Delhi through google search & got the best discount for best lasik technology by best lasik laser eye surgeon in delhi. He is now enjoying his life without glasses & very very happy, thank to you whole team, with best regards, Chitra
I must say that the place is really good and has a good team of doctors. I did inquire abt the ilasik treatment at some other places but at the end got it done from Lasik surgery delhi and i m really Happy abt it.I have been wearing specs since very long and now feels like a different person all together I would recommend this place to everyone
I had my lasik surgery there, they are very good at the service with latest technology and they care their patient very well............ pls go ahead with them if needed.
I am really thankful and so glad that I made my eye surgery from this place which is the best place for Lasik eye surgery in affordable price. From my childhood I used to wear glasses but in few minutes they make me free from my glasses.
I had done my lasik treatment at Center for Lasik Delhi. I was very pleased with the overall experience. Costing of the lasik procedure was also in my budget. Now my vision is normal. Thanks to Centre for Lasik Delhi.
I was using the glasses from last 8 years. At the time of my marriage, I planned for lasik treatment at Centre for Lasik Delhi. It was 10-12 minute painless procedure. Now I can see without glasses. Thanks to Centre for Lasik Delhi.
I have consulted too many centres for lasik treatment, their charges were too high which was not in my budget. One of my friends has recommended Centre for Lasik Delhi, I contacted them and really amazed. The costing of same treatment and technology was approx. 20% low in compare to other centers. I have received excellent service and patient care both before during and after I had the surgery. I highly recommend this center for lasik treatment.
I am so happy to choose the Centre for Lasik Delhi for lasik treatment. Everyone at the centre was fantastic. After pre-lasik checkup, they explained every single part of the process so clearly. Next day after the check-up, I got my lasik surgery done. It was the best decision I ever made. I am really very thankful to Centre for Lasik Delhi.
I am glad to have had the lasik surgery at Centre for Lasik at very reasonable price. The staff and doctors have all been helpful. My power was -4 but after lasik, it is normal and now I can see without glasses. Thanks to Centre for Lasik Delhi.
I have had done my lasik procedure at Centre for Lasik Delhi. I can't believe that I have no glasses, and I can see clearly. I did not feel any discomfort after the surgery, my vision was restored quickly. I am very happy with the treatment provided by Centre for Lasik Delhi.
I was preparing for the merchant navy but my eyesight was weak due to which I might got rejected in medical. I planned for lasik treatment at Centre for Lasik Delhi. The doctors and staff were very professional and provided me the best package for latest lasik technology. Now my eyesight is normal. Thanks to Centre for Lasik Delhi and their whole team.
I was preparing for armed forces examination but my eye power was above 5. So I planned for lasik surgery. I visited to Centre for Lasik Delhi. Their costing of latest lasik technology was in my budget. It was 10-12 minute procedure and they told me to take few precautions for a week. Now I can see clearly without glasses. I have also cleared my written and medical examination as well. Thanks to Centre for Lasik Delhi.
I was using the glasses for 12 years and really got fed up. I decided to go for lasik surgery but the price was too big for me. My teacher recommended the Centre for Lasik Delhi. I consulted to them; their costing was in my budget. My eyesight was minus five, now it is 100%. It is hard to believe. Thanks to Centre for Lasik Delhi.
Write us for Eye Surgery Cost, Consultation & Discount!!!